Feature:
Books of the Year
Welcome to Windmill's Books of the Year, 2013.
At the end of a year of big books, exciting debuts, old masters and rediscovered classics, we asked a few of our friends, authors and colleagues to tell us about what they've enjoyed reading over the past twelve months.
Andrew Lycett, author of Wilkie Collins: A Life of Sensation
Having just finished a book of my own, I wanted to relax with something that made me laugh. I could not have hoped for better than Unfaithfully Yours by Nigel Williams, a biting, intelligent satire (told in epistolary form) of the absurdities and simmering hatreds of London suburban life.
Jude Cook, author of Byron Easy
Tenth of December by George Saunders. A terrific collection, whose centerpiece story, 'The Semplica Girl Diaries' managed to be simultaneously brutally sad and darkly funny. Painfully hip, and on many a list, but nourishing.
Anita Sethi, Writer and Broadcaster
I've been lucky enough to interview some great novelists this year including Ruth Ozeki (A Tale for the Time Being), NoViolet Bulawayo (We Need New Names) and  Charlotte Mendelson (Almost English) who all went on to make the Man Booker Prize list. They tackle themes including bullying, racism and feeling like an outsider, but do so with warmth and wit.  I was also wedded to each page of Marriage Material by Sathnam Sanghera, and the immensely powerful The Hired Man by Aminatta Forna. My novel in translation of the year goes to the Argentinian Patricio Pron's My Father's Ghost is Climbing in the Rain.  I've had several recommendations to read A Girl is a Half-Formed Thing by Eimear McBride which sounds engrossing, so I'm very much looking forward to that!   Always on my list, too, is the prolific Ian Rankin's latest offering. There are so many more books I enjoyed this year, which you can read about on my blog: www.anitasethi.co.uk.
Jamie Fewery, Marketing Executive at Windmill
I loved The Goldfinch by Donna Tartt. Having waited for it for years there was always the worry that it might not live up to expectations. But it was superb. Brilliantly paced, wonderful characters and not a word wasted. I also really enjoyed Seating Arrangements by Maggie Shipstead, which I read in paperback over the summer.
Hester Abrams, Director at Jewish Book Week
Al Alvarez's Pond Life, a journal of the poet's daily swims in Hampstead Ponds. Lyrical and exhilarating, it's a book of daily epiphanies.  As the months and seasons pass, I marvelled at the man's resolve – to jump in and swim whatever the weather, the water conditions or his health. I
was seriously tempted to get out there myself – but only briefly; in the end I fell back into being a couch potato shivering vicariously.
Nick Harkaway, author of Angelmaker and The Gone Away World
Tricky one for me, as I'm judging The Kitschies and it's still going on. I'll tell you three I've admired, but not to the exclusion of others: I think S. by Doug Dorst and JJ Abrams is the most intriguing object the book world has produced this year (I'm not judging the design prize, so that's safe enough); I loved Hassan Blasim's The Iraqi Christ and I dipped into and was fascinated by Thomas Harding's Hanns and Rudolf (neither of those is elligible – phew!).
Sophie Rochester, Founder and CEO of The Literary Platform
Redstone Press produce books that are like little works of art. To be a fan of Redstone Press is a bit like being part of a secret cult – I realised this on the day a stranger gave me an approving nod in a bar when I got out my Redstone Press Diary, at the same time as raising their matching one. This year, Redstone Press came out with the most beautiful book called Inside the Rainbow. It's a wonderfully illustrated book about Russian children's illustrated books in the first twenty years or so of Soviet Rule. The book is edited by Julian Rothenstein and Olga Budashevskaya with a foreword by Philip Pullman and an essay by Arkady Ippolitov of The State Hermitage Museum, St. Petersburg.
Adrienne Loftus Parkins, The Asian Word
The Blind Man's Garden by Nadeem Aslam stands out in a year that has seen so many terrific books coming from Asian authors. Set in Pakistan and Afghanistan in the aftermath of 9/11, this is a powerful and moving portrait of the effects of war on families and love.  The intensity and depth of emotion with which the author approaches his subjects shines through in each sentence.
Lisa O'Donnell, author of The Death of Bees and Closed Doors
I loved lots of books in 2013, but in particular an American publication called These Things Happen by Richard Kramer. An ensemble piece set in New York written with an insight that overwhelmed me and a kindness that touched me to the core. Kramer's pen is honest and trustworthy.  I can't wait for his next novel.
Chris Gribble, Chief Executive at Writers' Centre Norwich
All the Birds, Singing by Evie Wyld. Second novels are funny things. This one is funny too – funny, terrifying, shocking, clever and deeply moving and Evie Wyld is a writer whose work shines.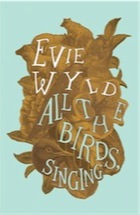 Vincent Kelleher, Digital Publishing Manager at Cornerstone
I was fortunate enough to read Life After Life in the Autumn of  2012 and 18 months on I still think about it. For me, it is Kate Atkinson coming into her own, an extraordinary time shift story, which, in my opinion, should certainly have troubled this year's Booker longlist. On the subject of the Booker, and with that rule change in mind, I wonder whether Donna Tartt should be picking out a frock for next year's ceremony? Everything you've read about The Goldfinch is true. It is incredible, I envy those yet to read it. On the non-fiction side, two books from two very different ladies of letters found a place in my heart this year. Darling Monster: The Letters of Lady Diana Cooper to her son John Julius Norwich 1939 – 1952 and Love, Nina by Nina Stibbe both offer wonderful glimpses into times gone by, war time England and 1980's London respectively. Not to mention the lost art of letter writing and the efficiency of the National Post.
Sathnam Sanghera, author of Marriage Material
I really did love Mr. Lynch's Holiday by Catherine O'Flynn. I don't know any writers who write about ordinary British people as perceptively and humanely as Catherine. Jolly funny too.
Clare Mackintosh, Festival Director at Chipping Norton Literary Festival
Life After Life, by Kate Atkinson. It feels painfully unoriginal to choose this as my book of the year, when so many others will do the same, but there is simply no competition. So brilliantly constructed, and written with such tenderness and insight, that it has stayed with me months after I turned the final page.
Jonathan O'Brien, Waterstones
Ben Marcus's The Age of Wire and String. I found this book in a Waterstones sale about seven years ago and was pleased to see GRANTA reissue it in 2013 in a lovely hardback edition with new illustrations. It seems to be about a world which is nothing like our own using words which don't always correspond to the way in which we would use them. I'm not entirely sure how else to describe it, it is bizarre.
Dan Franklin, Digital Publisher at Random House
For David Peace the three R's are repetition, repetition, repetition. But Red or Dead's depiction of the career and retirement of Bill Shankly is never dull, in fact it's incandescent and a piece of strangely prescient publishing in the year of Alex Ferguson's retirement. Literary prizes be damned, it deserved to be showered in accolades, but perhaps fitting that they might come later rather than sooner.
Juliet Mushens, Literary Agent at The Agency Group
Apple Tree Yard by Louise Doughty. I'd heard so many people rave about it and was utterly engrossed from the first page. It's tautly written, chilling, and all-too-believable.
Sarah Rigby, Senior Editor at Hutchinson
I adored Amy Sackville's Orkney for its elegant, haunting brilliance; likewise Robert Macfarlane's The Old Ways, the chapters of which have punctuated my year. Finally, and perhaps appropriately given that it was on Macfarlane's Man Booker shortlist, Jim Crace's Harvest: a novel of layers, boundaries and timeless prose. I think my picks suggest I might need to get outside more whilst editing…
Dea Brøvig, author of The Last Boat Home
Kate Atkinson's Life After Life was a delight. It reminded me of the 'Choose Your Own Adventure' series my brother and I read when we were kids, where any wrong turns could be righted with some backpedalling and a more satisfactory outcome achieved. Only in Atkinson's novel, I felt equally invested in each of Ursula Todd's many fates. I found the book to be as affecting as it was inventive.
Erica Wagner, Journalist
Only one? So, so loved Sathnam Sanghera's Marriage Material — truly. Bravo Sathnam and Windmill. And: completely blown away by Donna Tartt's The Goldfinch. Worth the wait.
Jessica Soffer, author of Tomorrow There Will Be Apricots
Everyone has already said The Flamethrowers and The Interestings and The Woman Upstairs — and with very very sound cause. Amazing: all. But I say Transatlantic for selfish reasons because no one inspires me to write like Colum McCann. He uses language so inventively, so gorgeously and every time I read him, I find myself wanting to drop the book and get to typing myself.
Cathryn Summerhayes, Literary Agent at WME
Had to choose two:
Night Film by Marisha Pessl – I was utterly captivated, terrified and blown away by the creativity in Night Film.  Marisha cleverly used multimedia and the dissolving of the fourth wall to invite you into her tale of horror and mystery.  I could not put it down, became obsessed with all things Marisha and pretty much blew off my work reading to devour it – and then I bought her first book and another week was ruined!
S. by JJ Abrams and Doug Dorst – This is not a book, it is a work of art, from the old library smell, to the bits of ephemera that fall out from in between the pages, to the heart-wrenching love affair that plays out in the marginalia.  It is the sort of book that all people who work in publishing want to work on – and it is the sort of book people in publishing should READ, because it makes you pause and really consider the words on every page – something which really is a bit of a luxury.
Sam Ruddock, Programme Manager at Writers' Centre Norwich
It's so hard to choose just one! There have been a huge number of books that I have loved this year. For fans of Japanese literature, Strange Weather in Tokyo is a quiet love story between two people for whom intimacy doesn't come naturally. The bar settings, liberally flowing sake, and delicious food are all reminiscent of Haruki Murakami at his best. It is a story of isolation and repression and hope for a better future. Hiromi Kawakami is one of Japan's bestselling writers and this is the first of her books to be translated into English; I hope there are plenty more to come.
All The Birds, Singing is told in Evie Wyld's ruggedly violent prose, of which she has few equals, and in Jake Whyte, has one of the most engaging protagonists I've read in a long time. Katie Kitamura's Gone to the Forest is a Coetzee-esque novel about the passing of an unnamed country from colonial rule to self-determination. At its heart is a scene in which a volcano erupts, covering the earth in ash and forcing the characters together. It's a set-piece reminiscent of the great dramatists of the twentieth century, and is without doubt the finest single chapter I read this year.
For the men, Patrick Flanery followed up his exceptional debut, Absolution, with the equally traumatising Fallen Land. Patrick Flanery is a fearsome, brutal writer. He turns all our half-conscious psychoses back in on us, full of the slashing power of Doris Lessing, something of the anger and fury and shame of Cormac McCarthy, and the space for readers to terrify themselves that Damon Galgut excels in. He is a writer of literary thrillers – not page turners but slowly evolving nightmares.
Chloe Healy, Think Jam
This is too tough! Favourites this year have been The Panopticon by Jenni Fagan, MaddAddam by Margaret Atwood, Z by Therese Anne Fowler, The Son by Philipp Meyer, Burial Rites by Hannah Kent, All That Is by James Salter and My Notorious Life By Madame X by Kate Manning.
Ursula Buchan, author of A Green and Pleasant Land
The Time by the Sea by Ronald Blythe. Beautifully and honestly described account of Aldeburgh and its famous residents – Benjamin Britten, Imogen Holst, et al – in the important years, 1955 to 1958.
Jonathan Ruppin, Foyles
My book of the year is a dead heat between Eleanor Catton's The Luminaries and Jim Crace's Harvest, but they both got plenty of exposure courtesy of the Man Booker Prize, so I'll pick my favourite debut novel instead: A Constellation of Vital Phenomena by Anthony Marra. Shedding light on Chechnya's unstable history of invasion, it's a novel that explores which of its persecuted characters will, in desperation, cross the line to a place of such amorality that there is no redemption.
Sandeep Mahal, The Reading Agency
Hanns and Rudolf by Thomas Harding. Shows how an ordinary German farmer became one of the most feared and notorious war criminals in history and the incredible story of the German Jew who captured him. Brilliantly written and well-researched book. Reads like a spy story.
Jonathan Lee, author of Who is Mr Satoshi? and Joy
In fiction, I loved The Twelve Tribes Of Hattie by Ayana Mathis. Intricately structured, full of great sentences, and written with real empathy. In poetry I enjoyed both Lucie Brock-Broido's Stay, Illusion and Nick Laird's Go Giants. In non-fiction, I thought Deborah Solomon's American Mirror, a biography of the artist Norman Rockwell, was an amazing achievement that will be read for a long time to come.
Daniel Lipscombe, Blogger, Columnist and Programmer at Essex Book Festival
All the Birds, Singing by Evie Wyld. At times shocking and saddening, in turns, beautiful and spellbinding, Evie Wyld is a future master flexing her muscles – one of Britain's best young writers who uses stunning language in a way that often left me breathless. The beauty of this novel is seen in how the writing and plot entwine.
Daniel Lewis, Literary Content Editor at Waterstones
My book of the year has to be Philipp Meyer's The Son – a sweeping historical narrative delivered with real stylistic clout, and plenty of gorey bits to boot. It's like a literary version of the much maligned HBO series Deadwood – only it covers 150 years of a family's history whilst exposing a bloody truth at the heart of the American dream. A dazzling achievement that I've found hard for any other book this year to live up to.
Kirsty Allison, Writer
I'm on constant catch-up reading dead writers but the concept of Hutchinson's Night Film by Marisha Pessl is so modern, it's almost an app, which I find interesting.  It compiles a scrapbook of evidence using digital printing, like the pictorial backpages of A Visit From A Goon Squad, Michael Smith's Giro Playboy or even Irvine's tapeworm in Filth, or Lewis Carroll's The Mouse's Tale, and although a little soulless, it's a post-modern Cluedo.  And good value being the same size as Irvine's monumental doorstop to the 80s, last year's Scagboys (Irv and I were in a DJ-band called the Disco Queens in the late 90s with Kris Needs).
Kim Barnes, author of In the Kingdom of Men
I love different books for different reasons: some for their unforgettable characters and lyrical language, others for the magical risks they take. Sam Cheng's Southern Cross the Dog begins with the Great Mississippi Flood of 1927. It is so wildly and deeply imagined that it stays with me at every level.
Juliet Pickering, Literary Agent at Blake Friedmann
2013 saw some of my favourite authors published – George Saunders, Kate Atkinson and Donna Tartt, to name but three – so this is a very difficult decision. But I'm going to dodge the impossible fiction choice and opt for You're All Just Jealous of My Jetpack by Tom Gauld, because it's brilliantly funny on the quandaries of writers (and everyone else!) and I've gifted it far and wide.
James Scott, author of The Kept
There were so many books I loved this year, including some excellent story collections – Laura van den Berg's Isle of Youth, Ethan Rutherford's The Peripatetic Coffin and Other Stories, George Saunder's Tenth of December, Tom Perrotta's Nine Inches – and some sprawling epics – my favorite being Philipp Meyer's The Son – but what captivated me most was Daniel Woodrell's The Maid's Version, a slim little volume that combined the power of both.
Matthew O'Donoghue, Publisher Liaison at Waterstones
It happens all too rarely, the book that turns up, quietly, and connects with you in such a deep and profound way that you feel somehow more complete, somehow more concrete and less abstract, having read it. It does happen though, and in January this year it was Tenth of December by George Saunders that looked me straight in the eye, did God's work, and set a standard that everything else I read in 2013, to some extent, failed to match up to. A handful of books kept pace but none managed to be as enjoyable, wise, sad, funny, warm, hopeful, worried and unsentimental as this one.
What was your book of the year? Tell us on Twitter @WindmillBooks